Gallagher Middle School proudly nominated Jessica DeRemer, Art teacher, for the District Teacher of the Year award. Jessica DeRemer began teaching in the Smithfield Public Schools in 1997 first as an elementary school art teacher (LaPerche and OCRS) prior to transferring to the middle school.
There are many reasons as to why Jessica is an ideal candidate for this recognition. First and foremost, Jessica is extremely positive, kind, and upbeat each and every day; she has developed the instructional fortitude necessary for success; and extends her talent and expertise beyond the classroom door.
Positive, Welcoming Nature
During the three months of virtual learning, Jessica had her students create artwork with messages of positivity, resilience, strength, and perseverance which were posted in our Class of Google classrooms for all three grade levels as well as on the school website.

Upon return to the building in the fall of 2020, Jessica created posters of positive and welcoming messages and displayed a different one each day in the main staircase.

Jessica creates monthly posters recognizing the birthdays of faculty and staff and hangs this in the faculty room. She routinely decorates the blackboard as well to create a warm and welcoming atmosphere.

She was instrumental in the creation of the positive messages video shared with students last year.

She shares messages of inspiration and positivity written on themed-based notes or painted on rocks which are placed in a basket near the staff sign-in sheet.

Jessica creates a positive and uplifting classroom atmosphere starting with greeting her students as they enter the classroom.
Instruction
Jessica has a passion for her subject and strives to have each of her students love art as much as she does.

Her art lessons provide the students with background knowledge on the artists and the period of art under study so the students' creations are reflective of this understanding.

She presents her students with the artwork of a diverse group of artists beyond those more commonly known by utilizing the works of contemporary artists.

Over the last few years, she has collaborated with an elementary school art teacher on a student book project. Jessica has some of her eighth graders create an illustration of a character described by a second grader. These illustrations are included in the book which is published and sold as a fundraiser.

She maintains art bulletin boards and displays throughout the building to showcase students' work.

During the last two years, she initiated and coordinated with Mr. Plante to create a Virtual Art Show.

She has opened up her classroom to college practicum students who are learning to become teachers of art.
Beyond The Classroom: School and Community
This year she celebrates her twentieth anniversary as a GMS Dance Team co-coach. Her dedication to this extracurricular activity is above reproach.

Prior to the pandemic, Jessica coordinated with the local libraries and Barnes & Noble to display student artwork in the community.

She has hosted Family Paint Nights for the PTO.

Regularly offers an Art Club as part of our After School Enrichment Program

Volunteers in her own community by teaching art classes at her local library
Jessica DeRemer exemplifies the qualities and characteristics as well as the pedagogical knowledge worthy of being named this year's Smithfield Public Schools' Teacher of the Year.
CONGRATULATIONS, MRS. DEREMER!
The element of surprise . . .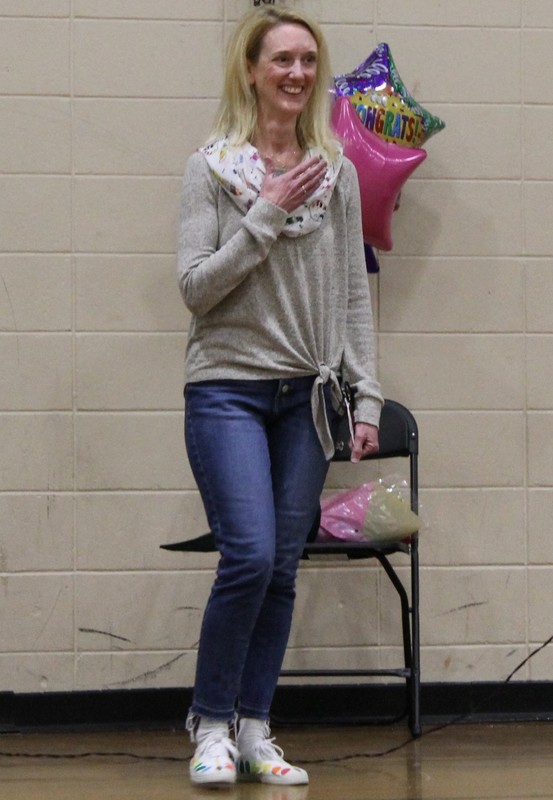 Thanking the crowd
Family and friends hearing the announcement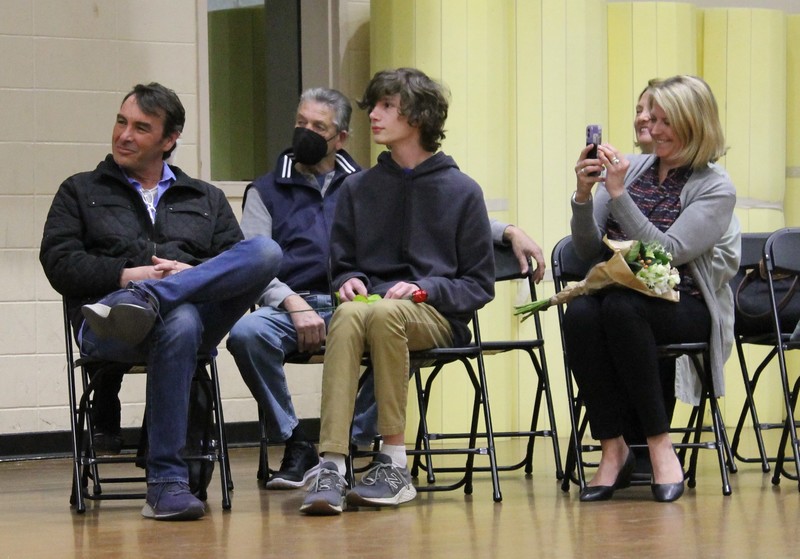 Photo op with family and friends